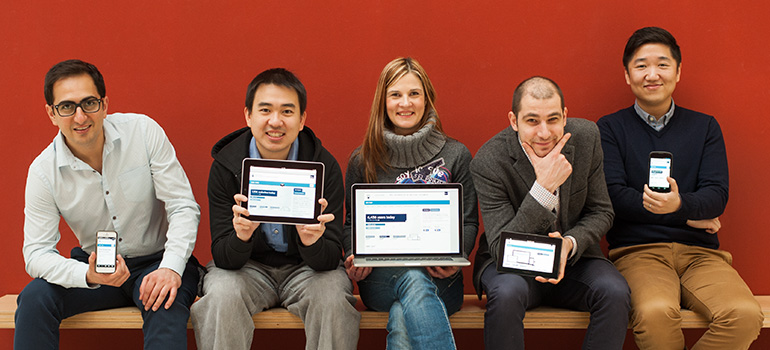 UBC Collab developers: (L-R) Amir Entezaralmahdi, Michael Ha, Lina Kang, Enej Bajgoric, Michael Kam. Missing: Scott McMillan. Photo by: Martin Dee
UBC CLF + UBC CMS = UBC Collab
Jointly developed by the CTLT, ArtsISIT, and Communications and Marketing teams, UBC Collab (short for "collaborative") is a centrally hosted and supported WordPress Theme that integrates the feature-rich design framework of the UBC CLF (Common Look and Feel) with the power and ease-of-use of the UBC CMS web publishing service.
Whether you're a faculty/instructor looking to create an online teaching and learning community, a web professional looking for powerful plugins and widgets, an academic group showcasing research, or a web maintainer looking to make simple content updates, UBC Collab offers a flexible solution for just about every website need.
Want to learn more about how to get up and running with UBC Collab? Check out our FAQs below.
FAQs
What is the UBC CLF?
The UBC CLF, or "Common Look and Feel," is a web design framework that supports UBC's Brand Identity and online reputation by providing a common look, feel, and functionality to all UBC websites.
In its most recent release in September 2012, the CLF offers a number of design and usability enhancements to address the evolving needs of UBC's many audiences. Its most remarkable feature is an integrated Responsive Web Design framework that adjusts or responds to a user's viewport. Simply put, this means that all websites with the CLF will be compatible with all device platforms and form factors, ranging from desktop computers to tablets and smartphones. This is a significant evolution of the CLF as it addresses a growing trend of mobile device usage, which is expected to exceed traditional desktop computer usage in 2014.
In addition to its Responsive Web Design framework, the UBC CLF offers many other features including: enhanced web accessibility, an improved design, a 12 column grid system, cross-browser and operating system compatibility, improved typography, and dozens of UI components, widgets, icons and buttons.
To learn more about the UBC CLF, visit: http://www.clf.ubc.ca
Why should I use UBC Collab?
UBC Collab is the most advanced WordPress Theme offered yet for UBC CMS. It takes advantage of the front-end design features of the UBC CLF while in its underlying core offers the powerful engine of the UBC CMS WordPress platform.
UBC Collab is a significant improvement from the old WordPress Theme (aka UBC CLF Advanced Theme). Since the launch of UBC CMS, we've collected feedback from our many clients on how to improve the existing theme system. The result is a more powerful, lighter, and easier to use WordPress Theme.
To learn more about UBC CMS features, visit: https://cms.ubc.ca/features
How do I get UBC Collab?
It's easy! If you are new to the UBC CMS service, just log in with your CWL account and complete our Website Request Form. Once your request has been submitted, we'll send you details on accessing your new CMS website account with UBC Collab ready to go.
If you are already a client of UBC CMS and you would like to migrate your existing site(s) to UBC Collab, check out the next FAQ below.
I am a client of UBC CMS, how do I migrate my existing site(s) over to UBC Collab?
Migrating an existing site can be a relatively easy process, but varies depending on the complexity of your site.
With the new CLF and a Responsive Web Design framework embedded in UBC Collab, part of the challenge is transitioning from traditional desktop-centric thinking to responsive design or mobile thinking. As you go through the process of migrating your site, you'll discover that it isn't as simple as flipping on a light switch, but in fact, requires some planning and possibly restructuring of your site content.
Some factors that may affect your migration process includes:
Custom CSS design styles
Complex or deep navigation schemes
Complex content layout structures
Use of large tables for organizing data
Use of varying dimensions of images
Use of plugins and widgets
Since Responsive Web Design is relatively new, we expect some site owners and content creators will struggle a bit with the migration. To assist site owners with the migration process, we'll be hosting hands-on workshops in the future as well as providing instructional materials and guidelines.
Migration Methods
We suggest two ways for migrating your existing sites over to UBC Collab:
Method
Steps
Difficulty
Risk
Time
Notes
1
Copy-n-paste

Create a new site.
Recreate your site navigation and IA structure in your new site.
Copy existing content from your old site manually and paste it in the new site.

Easy
Low
Long
This method is recommended as it encourages site owners to examine their existing content and helps them understand the nuances of responsive design techniques.
2
Export / Import

Create a new site.
Export your old site content to an XML file.
Import your XML file in to your new site.
Tweak your new site as needed.

Medium
Low
Medium
This method has not been fully tested and there will be loss of custom styles and possibly loss of content during the export / import process.
What support do you provide?
Support will be provided in three forms: 1) online self-help instructional materials and resources (UBC Wiki); 2) regular support clinics (every Thursday, 1-3 PM); and 3) hands-on workshops on an as needed basis (dates to be determined).
If you are interested in attending an upcoming workshop on the CLF and using UBC Collab, please complete our registration form. The CTLT also offers hands-on WordPress workshops to help you get started.
We are actively developing instructional materials and guidelines for units needing assistance migrating their existing sites to UBC Collab. As we are still learning about the migration process, we will ask units to assist us by sharing their experiences on what works, what doesn't, and any tips or tricks they've picked up on.
For more information on UBC CMS support, see the Scope of Services.
I've found a bug, who do I contact?
Bug reports can be submitted to the UBC CMS Support Team at: cms.support@ubc.ca. In your e-mail, please include the following:
Screenshot of the bug
Browser type and version
Operating system
Details, conditions, and steps you took that triggered the bug